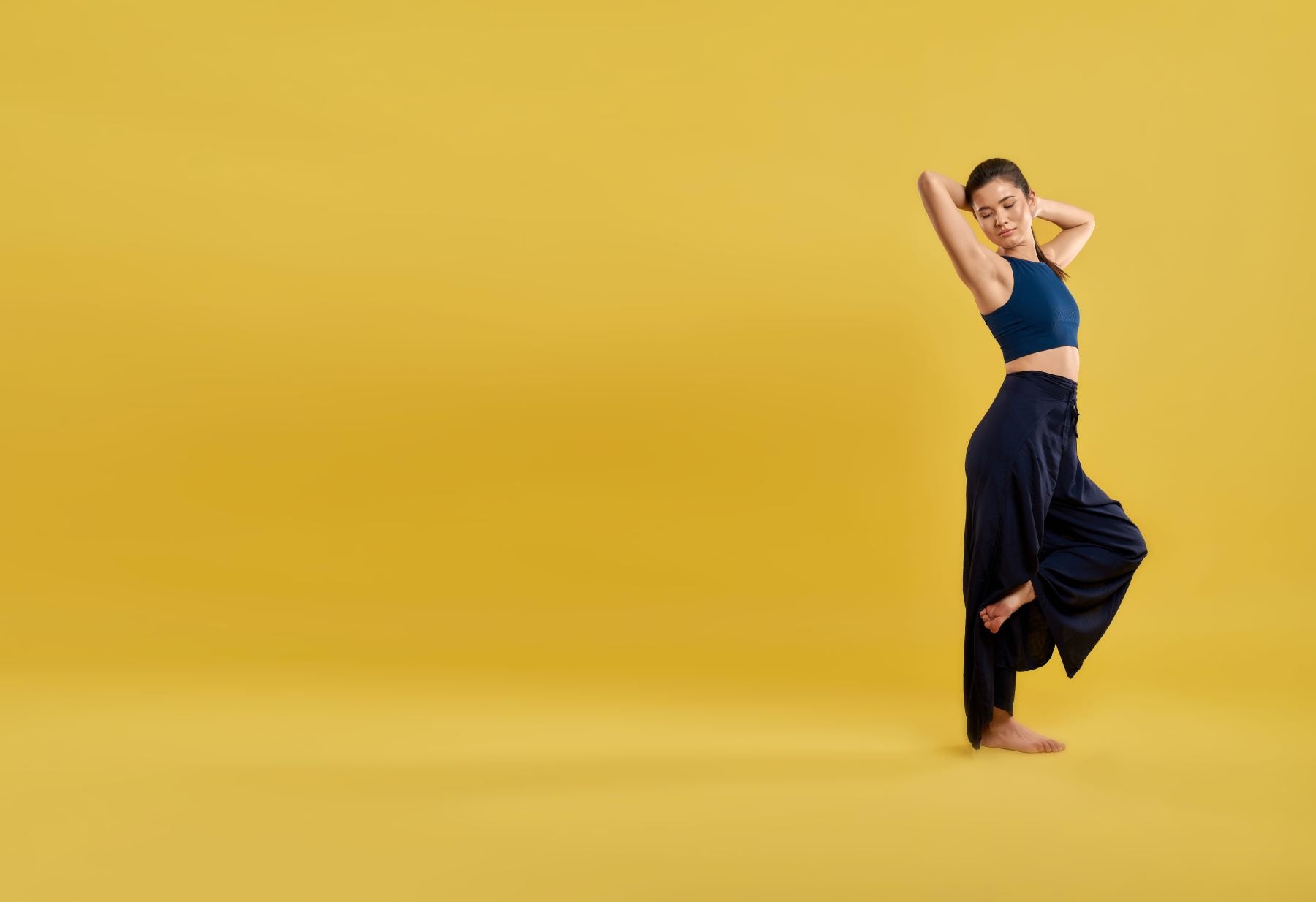 Aladin pants: the comfortable harem pants
They have a very special cultural background in the Middle East, but have now become an integral part of western wardrobes: the Aladin trousers, also known as harem or bloomer trousers.
Are you wondering what makes Aladin trousers so special? We love them for their comfortable cut, their legroom and their airy fabric that hugs our skin in summer without making us feel restrictive. In addition to their wide fit, the Aladin trousers are known for their unique designs. You can find them in many colorful patterns and colors, in casual as well as more elegant styles and in numerous cuts and sizes. This makes harem pants a perfect companion for each of us - regardless of age, gender or body type.
Different types of Aladin pants
We are happy that the Aladin trousers are available in so many different designs, because everyone can find what they are looking for and it never gets boring with them. You can also wear the harem pants on a variety of occasions. We introduce you to the typical types of Aladin trousers.
The classic Aladin trousers
A must-have in any wardrobe: the classic Aladin trousers. It has the characteristic wide cut and a deep crotch fold, is made of breathable materials such as cotton or viscose and is a comfortable everyday companion.
The printed Aladin trousers
The printed Aladin trousers bring color to your wardrobe. From geometric patterns to floral designs to ethnic motifs or simply a variety of colors, everything is possible. You can find the bloomers in numerous styles and can let off steam creatively in terms of fashion.
The elegant Aladin trousers
Are you wondering whether you can wear the Aladin trousers for your next evening event? We say: Yes, please! For formal occasions, you can simply choose a more elegant model made from high-quality fabrics such as silk or satin. With a few embroidery and stylish decorative elements it becomes a real eye-catcher. Forget the little black dress or the bland suit, the Aladin trousers as evening wear are simply something different.
Aladin trousers made of denim
We love denim and can never get enough of it - do you? Then we have good news for you: the material actually also works on Aladin trousers. This gives the traditional harem pants an edgy touch. The Aladin trousers made of denim are particularly suitable for casual, everyday outfits. Our tip: Wear a little jewelry and a simple white top and you've got your perfect summer look.
The sporty Aladin trousers
You don't want to miss out on your comfortable harem pants when doing yoga? Why should you, the harem pants are the perfect yoga pants. The next training session will be even more fun in Aladin pants made from stretchy, breathable materials . Don't worry, you also have enough freedom of movement in the harem pants for downward dog or Utkatasana!
Aladin trousers in short version
Are you wondering whether the casual Aladin pants trend suits you as a shorter woman or man? In any case! The short version of the harem pants is perfect for anyone who is a little smaller or has shorter legs. The short version of paigh is about 10 cm shorter than the classic version. This means it adapts perfectly to the delicate body type.
Aladin trousers in long version
Are you very tall or have particularly long legs? First of all: Good for you, because harem pants look magical, especially on longer legs. If the classic version is too short for you, then the Aladin trousers in long version are made for you. It is about 10 cm longer than the classic version from paigh and is therefore ideal for anyone who is slightly taller.
Aladin trousers for children
Practice early: Even the little ones love the comfortable harem pants look. The Aladin trousers for children are also available in a variety of designs and motifs. Especially for little ones who like to be active, the harem pants offer many advantages with their generous freedom of movement. Playing in it, romping around, running around? No problem!
Aladin trousers in large sizes
The Aladin trousers are a particularly inclusive piece of clothing that looks good on a wide range of people and body types. For those who have a few extra kilos on their hips, the Aladin trousers in large sizes are ideal. The plus size harem pants from paigh have a reinforced and enlarged crotch area and therefore adapt perfectly to your curvier body. Embrace your curves!
Sustainable and high quality: the materials of the Aladin trousers
Aladin trousers are usually made from high-quality, sustainable materials. Comfort is particularly important with these trousers, which is why the fabrics should be flexible, breathable and soft on the skin. The most common materials from which Aladin trousers are sewn are:
Cotton

: Cotton is one of the most popular materials for Aladin trousers. Cotton is breathable and pleasant on the skin. You will feel particularly comfortable in cotton harem pants, especially in high temperatures.

Linen

: Linen is another natural material popular for Aladin pants. It is light, durable and gives the pants an airy structure.

Viscose

: We love viscose. It is a soft, flowing and light material and therefore perfect for Aladin trousers. Our paigh trousers are largely made of viscose. The renewable raw material is a sustainable, comfortable alternative.

Polyester

: Polyester is a stretchy, wrinkle-resistant fabric that allows for many prints and colors. Polyester is also easy to care for. However, you should wear Aladin pants made of polyester on less summery days as the material is less breathable.

Denim

: Denim gives your Aladin pants a casual, modern look. Denim is a resilient, timeless material.

Silk

: Aladin trousers made of silk are ideal for an elegant look. This material makes your harem pants particularly comfortable to wear. Silk is also super light and breathable on the body.
This is how you care for your Aladin trousers
So that you can enjoy your Aladin trousers for a long time, it is important to follow a few care instructions .
As a rule, harem pants are made of delicate materials such as cotton, viscose or linen.
We recommend that you wash your Aladin trousers once before wearing them for the first time. Use a gentle program, for example a delicates program at a maximum of 30 degrees . The spin speed should not be set too high either. Reduce it to 400 to 800 revolutions. This is how you protect your harem pants. Do not use bleaching detergent or care products with chemical ingredients; after all, you want to preserve the strong colors of your colorful harem pants.
The Aladin trousers made of viscose dry very quickly. You can simply let them air dry after washing. This will protect the fibers of the trousers and also prevent them from shrinking. This keeps it nice and loose and comfortable. If the fabric does contract, there's no need to worry : viscose fibers sometimes contract a little when washed. You can easily fix this problem yourself by washing them again and pulling the fabric apart a little right after washing. You can simply hang the pants lengthwise by the waistband and let them dry.
It can also happen that viscose trousers that have been in the closet for a long time will shrink a little. This happens because the fibers contract a little over time and the fabric wrinkles when lying down. You can iron your Aladin trousers made of viscose at low temperatures, so the fabric will expand by up to 5 cm .
Are your Aladin pants made of organic cotton? Then we have another household trick for you: Simply add half a cup of white table vinegar to the fabric softener compartment of your washing machine. This keeps the harem pants nice and soft. Another tip is to turn the Aladin cotton trousers inside out before washing, as this will protect the beautiful fabric from too much friction.
Another little tip : If your harem pants have drawstrings, tie a slight knot before washing. This means they can't slip out or get stuck.
That's why we love the Aladin pants
We've already touched on it in the previous paragraphs: The Aladin trousers are versatile, comfortable and simply combine everything we want from our favorite piece in the wardrobe. We have summarized the most important advantages of the Aladin trousers for you:
Comfort

: The most obvious but also best benefit of the Aladin trousers is of course their incomparable wearing comfort. The wide, loose fit of the harem pants gives us unrestricted freedom of movement. So we can wear them for any occasion - whether for yoga, for a walk or for a cozy Sunday on the couch. Even on hot summer days we don't feel constricted in the Aladin trousers. The air-permeable materials allow your skin to breathe in the bloomers, which means you don't get too warm.

Diversity

: We love that there is never a dull moment with harem pants. There are so many patterns, cuts and designs of Aladin trousers that we can reinvent ourselves with them every day as we wish. Chic, casual, unusual, sporty - with the bloomers you can discover every style for yourself.

Inclusivity

: The Aladin trousers suit everyone. Gender, body shape or age play no role here. No matter whether you are tall, short, slim, curvy or muscular, everyone feels comfortable in the airy bloomers. They also come in many sizes and designs to suit different body types.

Cultural background

: With harem pants you wear a piece of culture on your body. It is inspired by the Middle East and has a special history that dates back to ancient times. We are pleased that it has found its way into modernity and still retained a bit of tradition.

Environmental awareness

: The harem pants are usually made from natural materials. In addition, less material is required to produce the loose Aladin trousers. This makes them a sustainable choice for your wardrobe.
If you now feel like buying your first Aladin trousers or trying out a new design, then stop by our shop. Here you will find a large selection of different patterns, designs and cuts of comfortable harem pants.