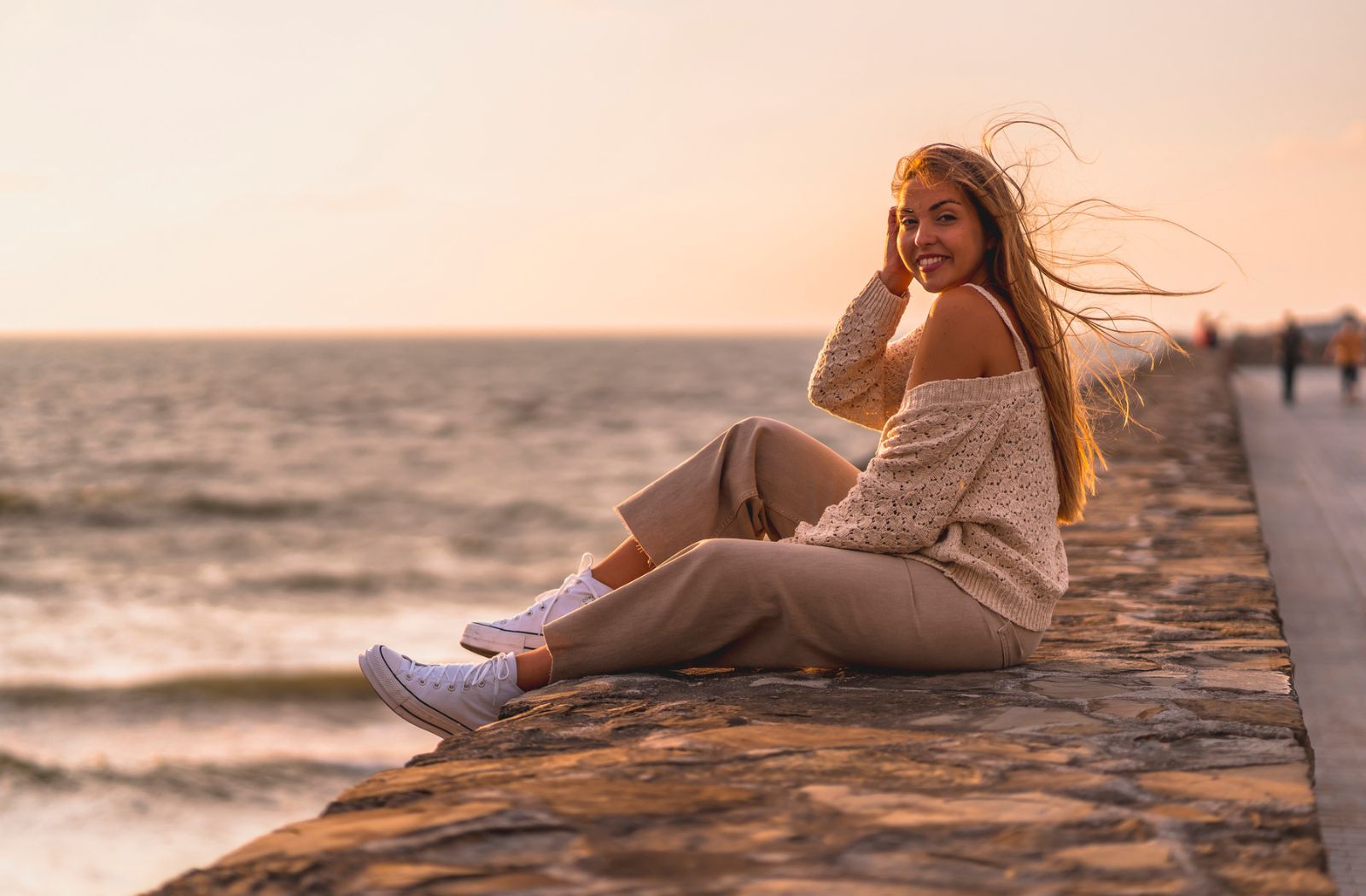 The chic harem pants for women
Are you looking for women's bloomers? Here at paigh you will find what you are looking for - our fashion oasis is suitable for women who are looking for comfort and sustainability in fashion! Look forward to casual yoga pants that make chilling and yoga particularly fun - your heart will beat faster here!
What can I combine harem pants with? The good news is: Harem pants can be combined in many ways. Whether with a casual top for yoga, tropically colorful like a Goa harem, orientally romantic with the Aladin harem pants or casual in the "Chino Harem" style, there are no limits to your creativity.
We indulge in a mix of lightness, freedom and carefree joie de vivre, because these trousers are simply more than just pieces of clothing - they are an attitude to life!
What does harem pants mean?
History of Harem Pants
What exactly are these harem pants? Quite simply: the perfect combination of freedom, style and comfort! The harem pants are wide-cut pants that reach to the ankles and offer plenty of freedom of movement. Alternatively, you can also wear them knee-length.
Originally they were worn primarily by men of the nobility. During the Renaissance, they were a status symbol of wealth as they were made from several meters of wool and lining silk.
The comfortable trousers are now available to everyone. With their light fabrics, they offer an airy piece of clothing, especially in summer.
Great harem pants for summer - sustainable and beautiful
With us you will find the hottest summer pants for women that will make your personality shine and accompany you in every moment of your life.
We know that comfort and sustainability are more than just empty words for you. That's why we attach great importance to ensuring that your summer trousers not only look great, but are also produced fairly and in an environmentally friendly manner. So you can feel completely comfortable in your clothes - without any guilty conscience.
Are you committed and committed to social issues? This connects us! Because we believe that fashion is more than just a trend – it is an expression of your values ​​and interests. Your new summer pants are timeless and will make you shine, whether you're out in nature or just hanging out with friends.
Now for the summer pants that will make your heart beat faster. Do you love summer? Our harem pants are the ideal companion for sunny days - airy, light and simply wonderfully comfortable. The light harem pants let you feel freedom and the bloomers are the perfect all-rounder for all occasions. Our flutter pants with the wide elastic band give you lightness and let you fly freely through life. So, let's make the world more colorful together - in fair, comfortable and stylish, well-fitting harem pants from paigh ! Discover the diversity of fashion that reflects your values ​​and interests and let us stand up together for nature, freedom, serenity and sustainability. Come by and become part of our inspiring fashion community!
Great styling ideas - How to create exciting outfits with harem pants
Hippie look for a feeling of freedom
Our pants in Goa harem style will send you back to the time of flower children. Combined with airy tops and ethnic accessories, you will be a star at any festival or chill-out on the beach! Whether colorful or simple, with casual wide tops decorated with fringes or ribbons, you can revive the style of the 60s and 70s.
Summer and Aladdin trousers for women
Immerse yourself in the fairytale world of Aladdin's trousers! With their magical oriental flair, they give you the charm of 1001 Nights. Due to their colorful variations, the trousers are best combined with a simple, figure-hugging top and airy sandals. The trousers themselves stand out with their bright colors and are a real eye-catcher. Gold-colored leather or dark straps give your look an oriental flair.
Women's bloomers - functionality meets fashion
In everyday life it doesn't always have to be bright colors. Even if you don't want to attract attention with patterns, the simple trousers can be an eye-catcher. You can also wear eye-catching tops, T-shirts and even hoodies with cheeky motifs with your bloomers. Paired with colorful sneakers, you'll be ready for fall and still bring color into your everyday life.
Plus-size harem pants for figure-hugging outfits
At paigh, no one has to go without figure-hugging looks. Thanks to the wide cut and high waistband with elastic band, the trousers hug your body and give it a beautiful shape. Together with a blouse, a simple top and a wide belt, the trousers become a comfortable eye-catcher. And the higher the waistband, the longer and narrower the legs appear, which creates a beautiful body shape with high heels or sandals with heels.
Harem pants for women – a fusion of comfort and elegance:
The harem pants combine the best of two worlds: comfort and elegance. Whether for the office, dinner or a cozy couch session - these pants are an absolute must-have for every modern woman!
You can create your own outfit combinations and have fun to your heart's content! Mix and match however you like and express your personality. Because at paigh, your individuality is the focus - we are here to inspire and encourage you to find your own style.
The harem pants look particularly good when you make them the eye-catcher of your outfit. You can combine colorful trousers with a black or white top and wear a casual belt with it. Since the pants themselves have great patterns, you don't need any elaborate accessories.
Depending on the combination, the trousers look casual to elegant. If you want to wear the trousers to a chic garden party, our simpler trousers with a higher crotch are suitable. Add a glitter top and a beautiful necklace and your elegant look is perfect.
As is often the case in life, shoes are important for your outfit. You can refine more elegant outfits with sandals with heels. Or you can wear very wide-cut harem pants with chic pumps or high heels. Sneakers and sandals are ideal for a DVD evening with friends, a visit to the café or a trip to the beach.
The great thing is - the harem pants are suitable for every occasion.
The paigh factory stands for fair production
Like you, we have the goal of making the world a better place. That's why our tailors in the Thai workshops are well paid. We are sure that if we set a good example, everyone will be better off.
Harem pants for women - certified by WFTO
We want you to feel comfortable when shopping online. Thanks to WFTO certification, you can be sure that our products are safe, sustainable and fair. Because we have nothing to hide.
For us it's all about the magic of yoga and the passion for stylish fashion! That's why we ship our harem pants directly to your home with a lot of love and care. So you can enjoy your next yoga adventure to the fullest while feeling comfortable in your new harem style and letting your personality shine!
Let's explore the world of harem pants together and make a fashion statement that is free and joyful! Throw yourself into your baggy-like harem harem pants, let your imagination run wild and show the world how colorful and unique life can be!
With lots of love and a smile in your heart.
So what you get from us:
Fair and sustainable trousers

Can be combined in many ways

Different styles and variants

Goa, hippie or rock pants: everything is included

Fast and uncomplicated shipping
Conclusion
The world of harem pants for women is colorful and diverse! From the casual baggy harem style to the hippie-inspired Goa harem to the fairytale Aladdin pants - each of these harem pants tells its own story and gives us a feeling of freedom and lightness.
The harem pants and women's yoga pants not only offer us comfort and freedom of movement thanks to the wide elastic band, but are also fashionable all-rounders for different occasions. They accompany us through everyday life and support us in our sporting adventures.
The harem pants are the perfect fusion of comfort and elegance and embody individuality and a sense of style.
Whether during yoga or in everyday life, in these harem pants we feel confident and happy, show our personality and celebrate life!
And the best? We can order all of these magical harem pants straight to our door - shipped with love and care so we can make our fashion statements!
Overall, harem pants for women are the epitome of freedom, style and comfort. They make us shine and encourage us to celebrate our individuality.