Article: Goa pants: our spiritual favorite piece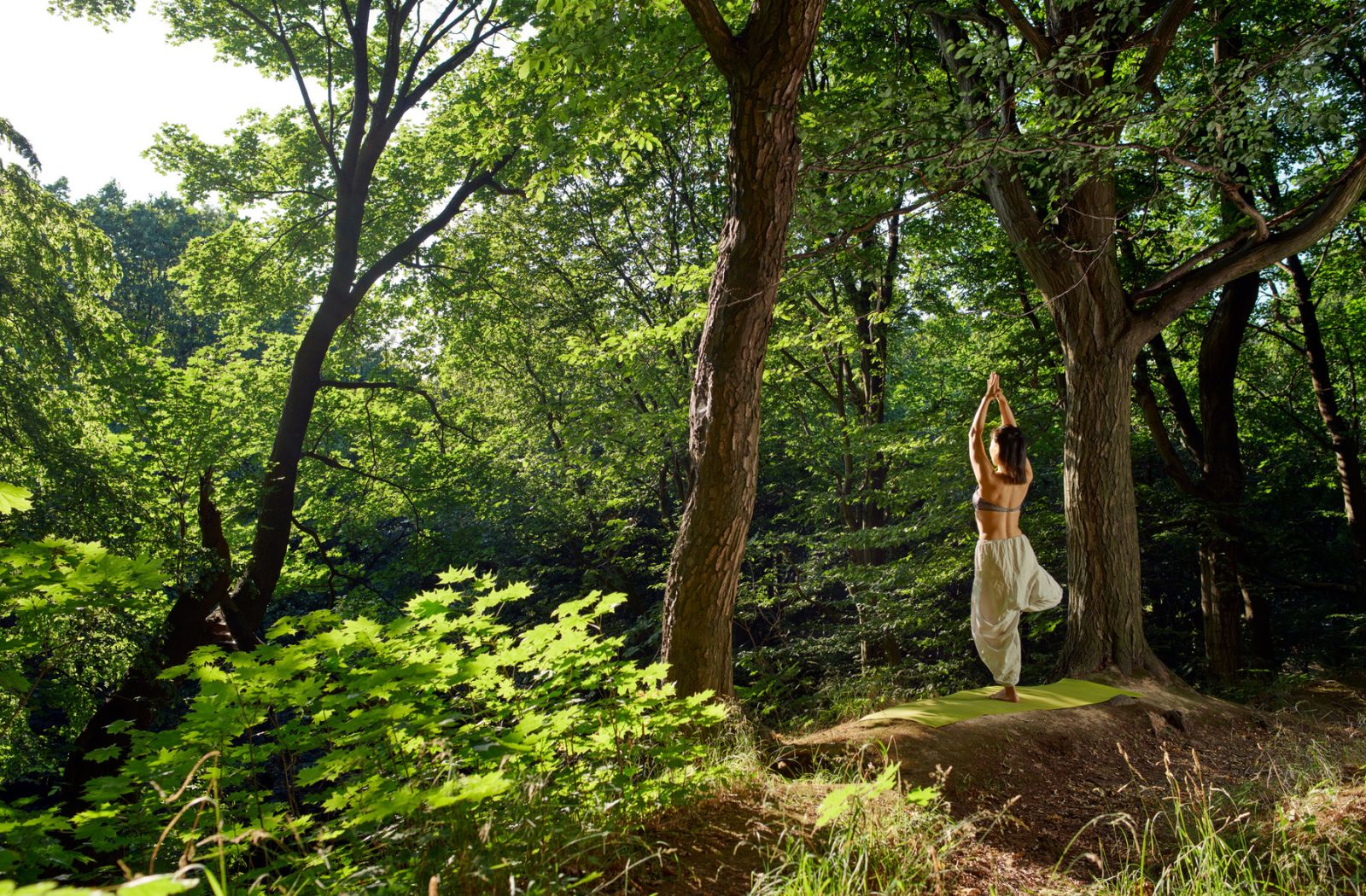 Goa pants: our spiritual favorite piece
The Goa pants take their name from the smallest Indian state on the central west coast. Did you know that Goa is known as the hippie paradise? And that's where the name of our favorite pants comes from.
What makes the Goa pants so special? We love the Goa pants - also called harem pants or harem pants - for their wide cut and lightweight feel. If freedom were a piece of clothing, it would probably be Goa pants. As the perfect companion for hot days, it sweetens our summer time with its colorful patterns and colorful designs. The best thing about it: the Goa trousers suit everyone and fit every body type perfectly.
Goa pants, harem pants, harem pants: what are the differences?
In fact, most people simply use the terms Goa pants, harem pants and harem pants interchangeably and we also like to use the different terms for our paigh pants. Strictly speaking, however, there are a few differences between the different types of trousers, which we have summarized for everyone who wants to know exactly.
The harem pants: the classic ones
Harem pants are probably the mother of all bloomers. It has its origins in the oriental clothing of the Middle East and is characterized by its wide cut that extends from the hips to the ankles. It has a deep crotch and an elastic waistband. That's what makes them so comfortable and airy. Harem pants are made from very different materials. You can find them in patterned, plain and ethnic designs.
The Goa pants: the spiritual ones
The Goa pants are the spiritual ones among the airy pants. This is due to their mostly ethnic and psychedelic inspired looks. What exactly is the difference to harem pants? In fact, the Goa pants are less linked to the Orient and more to the alternative and spiritual movement of the 60s and 70s. It is associated with the Goa region of India. Goa pants are made from light and airy fabric like viscose and are known for their vibrant colors and creative patterns. You can recognize them by their psychedelic style . It is definitely the right choice for your next festival.
Harem pants: the extra width
Harem pants are also very similar to harem pants. Therefore, the two names are often used synonymously. In fact, the harem pants are a bit wider and have a lower crotch than the classic harem pants. This creates the iconic "pluder look".
So, don't stress, you can just use the terms interchangeably, the differences are really minimal and they are simply different subcategories.
History of Goa Pants
The history of Goa pants goes back to the late 1960s, namely the time of hippie culture. As you can tell from the name, the Goa pants have their origins in the Goa region on the western coast of India. Back then, all artists and spiritually interested people came together here. But Goa was also a popular destination for many travelers who wanted to immerse themselves in the culture. The climate in India is warm and humid. The Goa trousers offer the perfect conditions here: they are breathable, airy and loose.
During the hippie movement, Goa pants were a symbol of rebellion. Their bright colors, ethnic patterns and quirky designs have made them stand out from the crowd. This made it a symbol of spirituality and freedom. Goa or hippie trance refers to a style of electronic music that is a subgenre of trance music. This genre became popular at outdoor trance parties in Goa in the 80s. The Goa pants are also a symbol of this movement and are inspired by psychedelic sounds.
The Goa trousers have retained exactly this character to this day. We celebrate it as a piece of clothing that allows us to be completely ourselves, to express ourselves creatively in fashion and not to have to compromise on comfort.
Cut and materials of the Goa pants
You can actually recognize Goa trousers directly by their cut and materials. Everything about these pants is designed for comfort: breathable fabrics and a loose fit make them a comfortable favorite piece.
The cut of the Goa pants
The cut of the Goa trousers is characterized by a wide and comfortable fit. The loose fit is made possible by the elastic waistband. The trousers also often have an elastic band at the ankles. This gives it the typical plump look .
Natural materials
The materials from which the Goa pants are made are crucial to their comfort. The most popular fabric is viscose, but there are also harem pants made of cotton, denim or silk.
With us you will find Goa trousers made of viscose and organic cotton. Viscose is a semi-synthetic fiber derived from cellulose. The flowing fabric is comfortable to wear even at high temperatures. It is also a sustainable raw material as viscose consists of renewable resources.
Organic cotton, on the other hand, is grown organically and we do not use pesticides and fertilizers. In addition to sustainability, organic cotton is, above all, skin-friendly and feels particularly soft.
Different styles and colors of Goa pants
Like the hippie movement itself, the Goa pants are one thing above all: colorful. In addition to a variety of vibrant colors, the harem pants are also available in traditional ethnic patterns as well as spiritual prints. Over time, more and more styles and designs have developed. You can now also find the Goa trousers in batik, with modern or abstract motifs and with creative hand embroidery.
What is particularly characteristic of the Goa trousers are the crazy, psychedelic prints. Her look simply reflects the attitude to life of the Goan trance culture and lets us dive deep into psychedelic sounds.
The typical colors of the Goa trousers are bright, bright rainbow tones as well as pastel and earthy, neutral tones. Turquoise, orange, purple and red in particular underline the lively flair of the Goa trousers. Ultimately, you know best what suits you and your personal taste. And that's the beauty of the Goa pants: you can find them in so many versions and designs that there really is something for everyone.
Popularity of Goa pants
The Goa pants have evolved from subculture to an iconic garment across the world. Their original meaning, namely the connection to the hippie culture of the 70s and 80s, shapes their popularity to this day. She simply stands for non-conformism and freedom. That's why it's so popular at festivals and during yoga . In general it probably represents an alternative lifestyle .
But don't worry, of course you can also wear the Goa pants in everyday life. Thanks to their countless designs, you can find the right model for every occasion.
We especially love them for their cultural significance, their sustainable production, their diverse designs and their incomparably comfortable fit and don't want to be without them anymore - whether for the next yoga session, a cozy Sunday on the couch or a wild festival weekend .
Caring for Goa Pants: Tips and Tricks
Do you want to preserve the vibrant colors and soft fabrics of the Goa pants for as long as possible? Then we have a few useful tips and tricks for care for you:
Gentle washing program

: You will often find a notice on Goa trousers that they should only be washed by hand. However, you can easily put the paigh harem pants in your machine as long as you select a gentle washing program. It's best to wash them at a maximum of 30 degrees and pay attention to a low spin speed (400-800).

Shaping after washing

: To ensure that your Goa trousers retain their loose fit, you should shape them a little after washing. To do this, simply carefully pull the ends and sides apart immediately after washing and then hang them up to dry.

Air dry only

: You don't want the Goa pants to lose their comfortable fit. That's why you should not put them in the dryer after washing, but simply let them air dry. This will prevent it from shrinking or the fibers from becoming distorted.

Iron carefully

: Do you want to iron your Goa trousers? Then it's best to only do this at a low temperature. This way you protect the fabric and the colors.

After long storage

: If your Goa pants have become a bit warped after a long storage in the wardrobe, then it is best to wash them and follow the steps mentioned above. The fibers can contract slightly if you lie down for a long time. By washing it and then stretching it out a little, it will regain its original loose cut.
If you have now acquired a taste and would like to buy a pair of Goa trousers, then take a look at our shop. There you will find a large selection of colorful harem pants in a variety of designs, including the psychedelic look of the Goa pants .