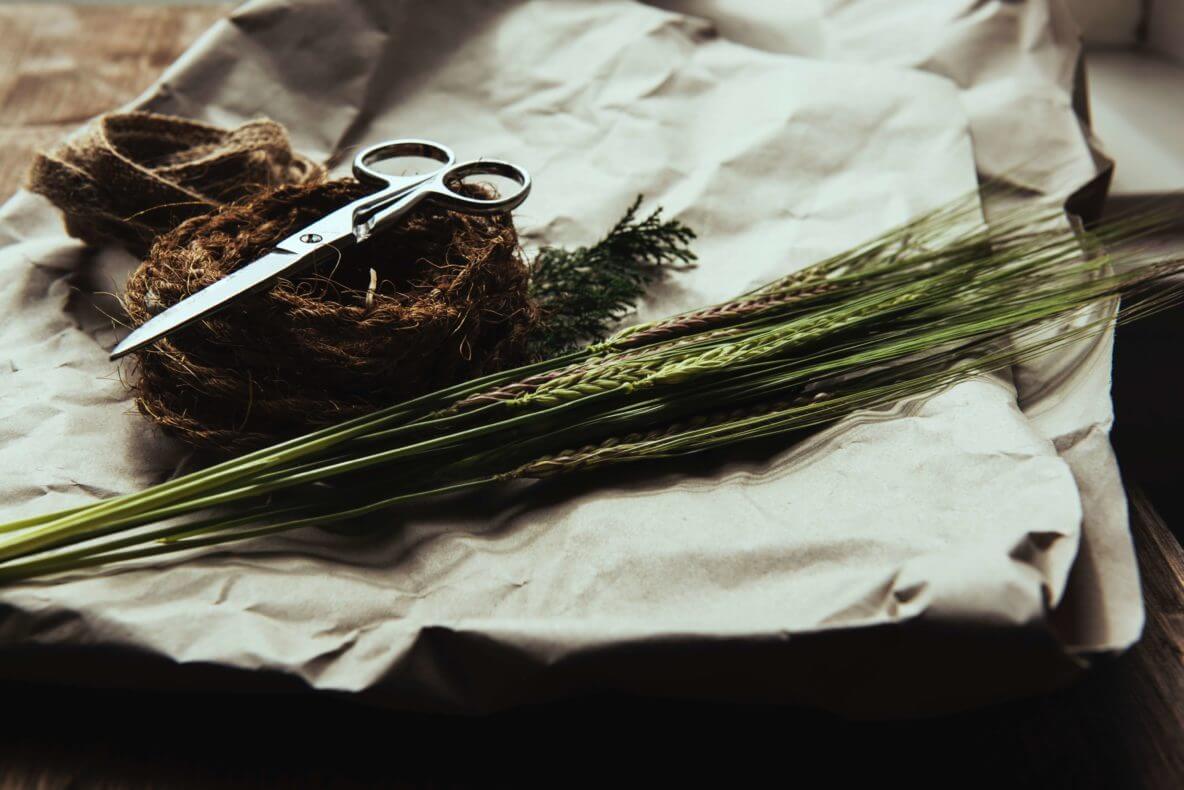 Wrapping gifts - but sustainable!
Who does not know the mountains of paper and plastic that are spread all over the Christmas room after the presents have been given? It is no surprise that this is not particularly sustainable. Nevertheless, you don't have to do without the aesthetics that a wrapped gift brings with it. So that you can start wrapping gifts sustainably from now on, here are my tips for sustainable and imaginative gift wrapping.
Basic things you can consider
Gift wrapping paper is usually not made of plastic, but also here wood, water and energy are used. Therefore, it makes sense not only to produce less plastic waste, but also to reconsider the use of paper.
The first principle is to wrap several gifts together when the opportunity arises. It will save even more resources if you give several gifts, one of which can be used as packaging. For example, you can fill socks with small items, wrap a tea towel around a cookbook or put a book in a scarf
If you work with traditional wrapping paper, it is worth measuring the paper exactly before cutting it to size. Often large strips of paper end up in the waste paper basket simply because you cut the wrapping paper too generously or too narrowly. I personally collect some smaller remnants of gift wrap paper in a drawer in order to use them later e.g. for handicraft
Speaking of wrapping paper: Wrapping paper marked "The Blue Angel" is made entirely of recycled paper. This more environmentally friendly recycled gift wrapping paper - for which water is saved and trees are allowed to remain standing - is available from dm, for example. Of course it is even better to do without paper altogether
Traditionally, Sellotape is also part of the gift-wrapping utensils. Unfortunately, this makes recycling very difficult. But there are also alternatives made of paper; so-called paper adhesive tapes.
Probably I don't need to mention this here so explicitly. Nevertheless, sustainable giving also includes using gift wrapping paper (as well as gift ribbons) several times if possible. Of course, this requires that the wrapping paper already used still looks nice and has not been torn
Paper alternatives: Materials
You are surprised when you look around at home and collect everything you no longer need and which could be considered for gift wrapping:
Newspapers and magazines, comics
Sheet music
Maps or city maps
Calendar pages
Shoeboxes and other boxes
Packing or baking paper
Tin cans
Jute bag
Preserving or jam jars
And here are my three favourite insider tips:
Empty toilet paper or kitchen rolls: They're great for small gifts. The rolls can be wrapped as candy by wrapping them with Packpaiper and tying them with a natural string
Tin cans: The next time you cook beans, peas, tomatoes, etc. from the can, do not open the can as usual at the top using the tab, but at the bottom; preferably with a can opener. You can then fill the empty and cleaned tin with a gift and close the bottom with cardboard and glue (e.g. with a hot glue gun). The tin can of course be decorated afterwards. The effect when unpacking by pulling the tin open is really something new!

Fabric remnants: You may have some fabric remnants at home that are suitable for gift wrapping. If this is not the case, it is worthwhile to have a look at the nearest handicraft or fabric shop. Here you can usually find baskets with fabric remnants that are no longer needed. Super cheap and also resource-saving!
Sustainable plastic-free decoration
Especially at Christmas and Easter time, the shops have tons of nice decoration stuff in store, which makes it easy to wrap presents in an unusual way. These are often made of plastic or end up in the garbage after a single use. This does not have to be the case. Of course there are more sustainable alternatives:
Instead of plastic ribbons it is better

to use fabric bows

or cords made of natural fibres. Fabric ribbons are easy to iron on and can therefore be used several times.
Adhesive

can be produced without effort

: Simply mix a tablespoon of wheat flour with water and add water until the desired consistency is achieved. Icing sugar is also suitable instead of wheat flour.
Pressed leaves or flowers, fir cones and twigs

can be wonderfully clamped between gift ribbons or stuck on the packaging
Small

nut shells

like those of a walnut are perfect for storing jewellery or other small items. The nut shells can be closed with self-made glue (see above).
For decorations such as

gift tags

and name badges, it is worthwhile to plunder your own paper waste. Here you will find cardboard boxes and paperboard that can be cut to size.
Potato stamps: Not only does one feel transported back to one's own childhood, but with the potato print one also creates uniquely printed wrapping paper at the same time.
For material in

gold or silver colours

, yoghurt cup lids, tea lights or chocolate packaging can be reused
The same applies

to the decoration: Use everything you can find in your home. This can be buttons, beads, and scraps of paper or fabric. Old magazines can also be used to create collages that can be used to enhance a dull package.
As you can see, there are many ways to wrap gifts plastic-free and sustainable. I hope I have given you some inspiration. If I forgot something important or you have another plastic-free gift idea, I would be happy to hear from you in the comments!
If you liked the ideas on how to wrap gifts in a sustainable way and you would like to learn more about sustainability, mindfulness or healthy eating, take a look here over.