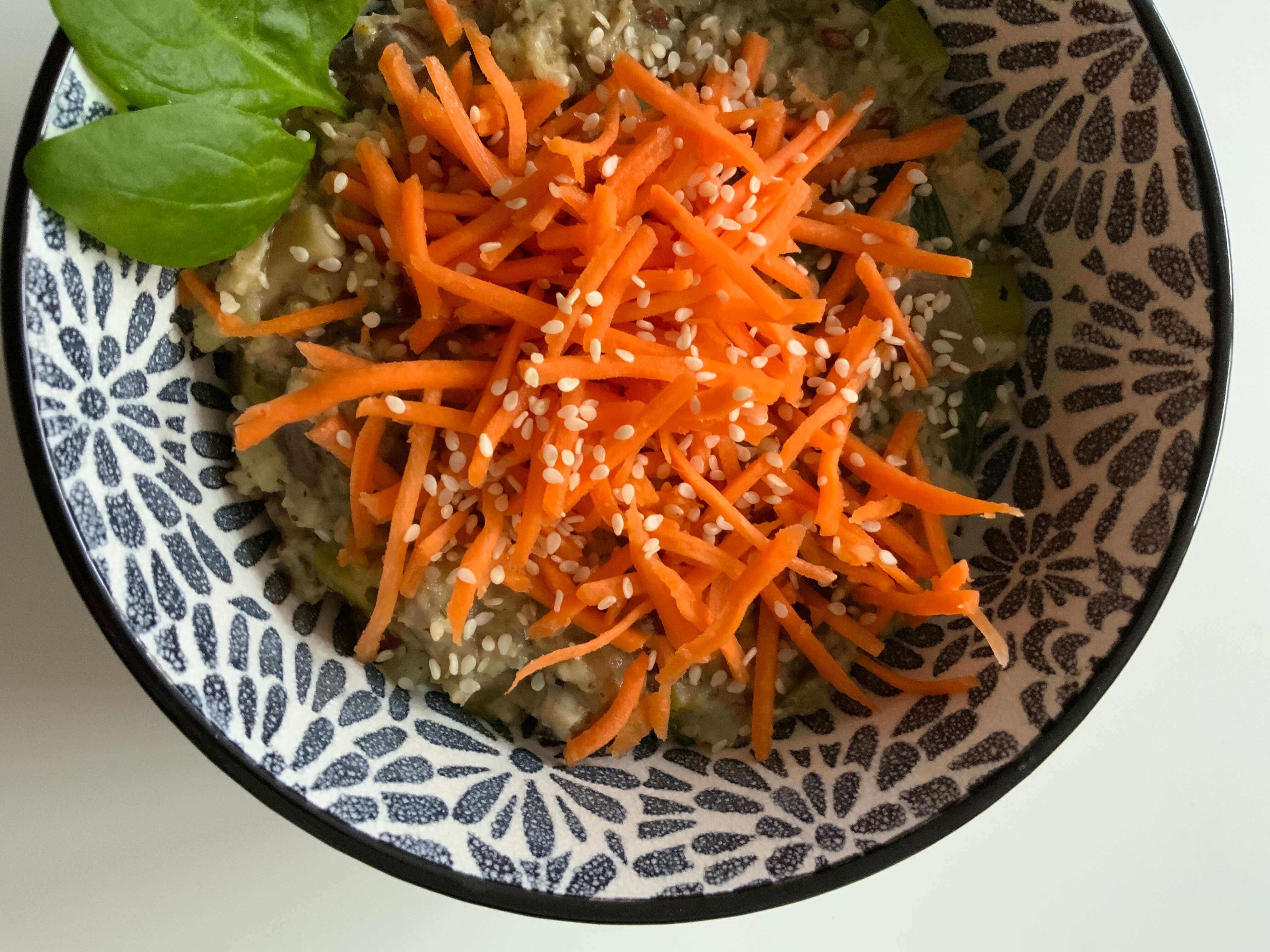 Hearty porridge: mushroom "risotto" with oat flakes and spring onions (recipe – vegan)
Oatmeal, also known as porridge, oatmeal or gruel, is my absolute favorite breakfast. Because I like my breakfast warm, nutritious and – sweet. That's why I didn't try hearty porridge for a long time. However, this hearty mushroom "risotto" convinced me from the first moment...
It takes a few minutes longer to prepare than traditional sweet porridge, but is still just as easy. Basically, you just throw a few ingredients into a pot one at a time and let the whole thing steep for a few minutes. Nobody can tell me that he (she) can't cook :-) .
The recipe, including its ingredients, is similar to a risotto. However, oat flakes are used here instead of rice. The dish is given a pleasant spice by the spring onions, yeast flakes and white wine vinegar.

In the end, you get a wonderfully creamy, warming and hearty breakfast, which can be a pleasant change from the morning sandwich, muesli or sweet porridge. Which doesn't mean that you can't prepare this dish at any other meal time! 😌
This purely plant-based mushroom porridge with spring onions and spinach is super easy to prepare, warms you up from the inside and yet isn't too heavy on your stomach. On top of that, it is healthy and packed with valuable nutrients. Whether as a hearty breakfast, lunch or dinner – definitely give it a try!
Ingredients
for 1-2 servings
1 tbsp

olive oil

2 handfuls

of mushrooms (e.g. button mushrooms/oyster mushrooms)

3

spring onions

1 teaspoon

vegan butter or margarine (e.g. Alsan)

45-50 g

oat flakes

250 ml

vegetable broth

1 tsp

flaxseed (crushed)

1 tbsp

yeast flakes

1 tbsp

white wine vinegar

2 handfuls

of baby spinach

Pepper, salt and possibly other spices as desired (I also used the "mushroom pan" seasoning from

Just Spices

...)

Toppings of your choice, e.g.

sesame, grated carrots, avocado, cream cheese, hummus, ...
Tools: small pot, cutting knife, cutting board
preparation
Heat the oil in a small saucepan over medium heat. Meanwhile, chop the spring onions and mushrooms into rough pieces.

First add the mushrooms, then the spring onions to the pot. Pepper and salt well. Heat the whole thing for 3-4 minutes. During the "waiting time" you can boil the water for the vegetable broth.

Add the vegan butter to the pot, wait a moment and then add the oat flakes.

Shortly afterwards add the vegetable broth and boiling water. If you want, you can now mix in other spices of your choice.

The mixture now has to steep for another 6-8 minutes at a low level. During this time you can stir in the linseeds, yeast flakes and white wine vinegar. You can also add the baby spinach to the pot about 2 minutes before the end and stir it in.

Place the porridge risotto in a bowl and sprinkle with the toppings of your choice. Arrange & enjoy!
Preparation time : approx. 20 minutes
HAVE FUN TRYING! 💛
If you would like to discover more recipes or learn more about healthy eating, sustainability, mindfulness or family and pregnancy, check out even more exciting blog articles on these topics here .