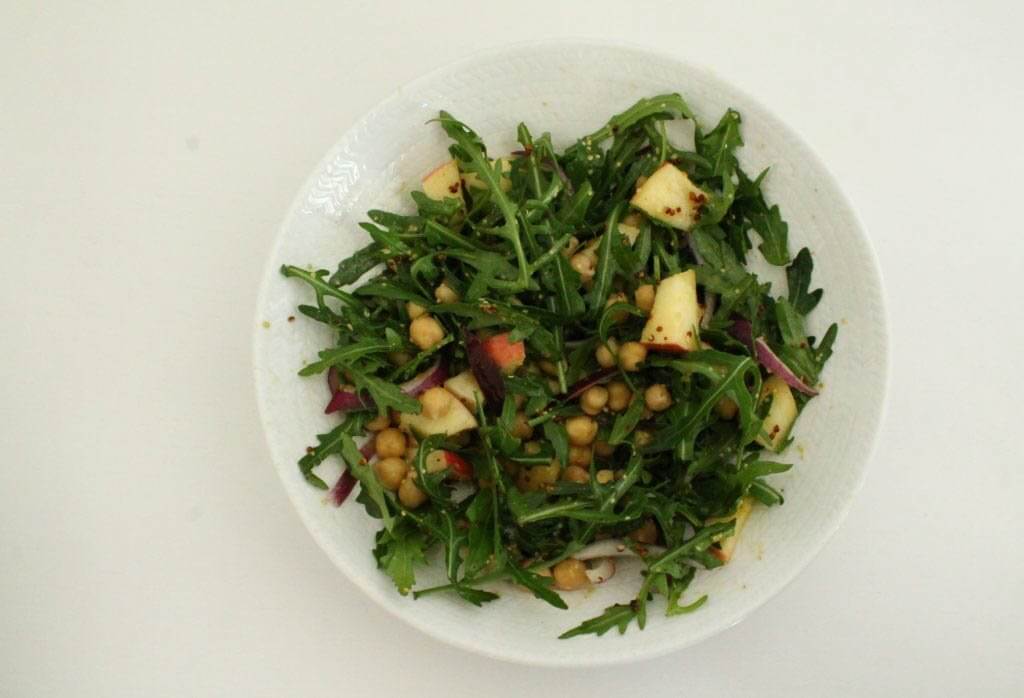 Orange arugula salad with chickpeas
Today I would like to share one of my newly discovered favorite recipes with you, a rocket salad with chickpeas, orange and apple.
The idea
Some time ago I was looking for a slightly different salad that had a green component but didn't taste boring or bland.
Personally, I love fruit in salads and had leftover apples and oranges that I could use. Now I'm wondering why I've never added orange juice to my salad before, because the freshness of the orange gives the salad a completely different flavor than our well-known friends oil and vinegar.
Chickpeas are the source of fiber and protein. Since the legume goes wonderfully with cumin and onions, the seasoning component in my recipe was already clarified - almost. Another ingredient is grainy mustard. This is usually part of my favorite pasta salad, but it just sits in my fridge the rest of the time. So I thought he could be a good addition here, et voilà! The spiciness of the mustard brings a very unique flavor component that even non-mustard lovers like me enjoy.
As you can see, in the end I actually just combined ingredients that I still had at home. I really enjoy doing this because it is efficient and time-saving. This time, however, I found what I thought was a really delicious recipe that I thought was worth sharing with you.
This vegan arugula salad is perfect for the coming spring days. Orange and apple give it a fruity freshness, and in addition to the onion, mustard and cumin add a certain spice. The ingredients complement each other wonderfully and in combination with the arugula the taste becomes really rounded.
Not only super easy, but also super delicious!
Ingredients for 4 servings
260g Chickpeas
1 red onion
100g rocket salad
1 organic orange
1 organic apple
2 tbsp cumin
1 tbsp grainy mustard
3 tbsp olive oil
Salt
pepper
Tools: juicer, knife, cutting board, sieve, salad dryer
preparation
Peel the zest from the orange and squeeze out the juice.

Drain and rinse the chickpeas.

Cut the apple into small pieces and the onion into thin rings.

Mix olive oil and Dijon mustard with the ingredients. Add cumin and zest.

Salt, pepper and serve.
Preparation time: 10 minutes
Nutritional values ​​per serving: 273 kcal | 22g carbohydrates | 6 g protein | 17g fat
Have fun trying!
If you would like to discover more recipes or find out more about the topics of healthy eating, mindfulness or sustainability, take a look here .