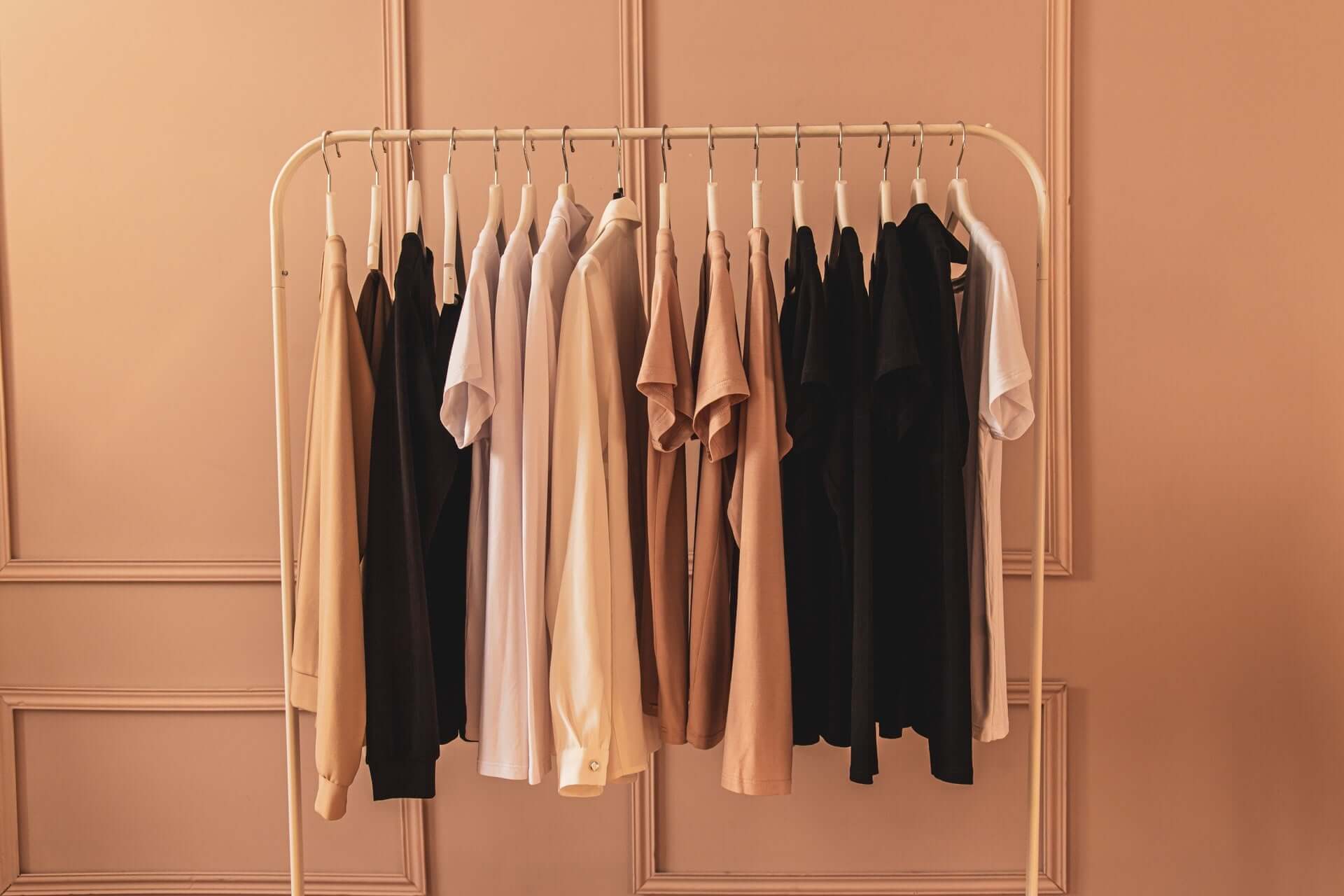 Capsule Wardrobe - Less is more
Standing in front of the wardrobe in the morning and not having to search for long until you find something suitable - that would be it, wouldn't it? The "capsule wardrobe" method makes this possible. It promises a simple, sustainable wardrobe. However, a capsule wardrobe is not a futuristic piece of furniture, as the name initially suggests. It's more about organizing your wardrobe and consciously dealing with your own clothes. You can find out exactly how this works here.
What exactly does the term "capsule wardrobe" mean?
Susie Faux, a London boutique owner, is considered the inventor of the capsule wardrobe. In the 1970s, she used the term to refer to a series of timeless basics that should all be combinable with each other and that should form the core of the wardrobe. Add a few more unusual parts - and hey presto - you're prepared for any situation. The term became really popular thanks to the American designer Donna Karan, who published a collection with seven items of clothing that could be combined with each other.
What belongs in the capsule wardrobe?
According to Susie Faux, the following items of clothing belong in every capsule wardrobe: two pairs of pants, a dress or skirt, a jacket, a coat, a knitted sweater or cardigan, two pairs of shoes and two handbags.
Currently, some bloggers or authors are talking about 37 items of clothing , some even just 10 . This also includes accessories such as belts, bags or hats. In the end, of course, how minimalist you want to approach the whole thing is up to you. Essentially, it's about owning just a few pieces of clothing that are useful and can be combined in a variety of ways , rather than having a whole bunch of clothes that are so unusual that you only rarely wear them.
In most cases, the capsule wardrobe is divided into a spring, a summer, an autumn and a winter wardrobe . That means it's about 37 or 10 or x items of clothing per season . Sometimes spring and summer, as well as autumn and winter, are combined into one wardrobe. Only the items from the current season can really be found in the wardrobe. All the others are waiting in a box to be used at the given time of year.
When some people think of basic pieces, they immediately think of dull colors, boring cuts and monotony. But a capsule wardrobe doesn't always look the same - fortunately, because otherwise that would be boring! Depending on the clothing style and living conditions, a wide variety of items, colors and cuts can be found in the wardrobe. But more on that later.
Benefits of a capsule wardrobe
Converting your closet into a capsule wardrobe may take some effort. Nevertheless, for most capsule wardrobe users, the advantages that this type of wardrobe organization brings with it outweigh:
Fewer items in the wardrobe means a

better overview

and therefore usually

more order

.

You save time and nerves

because you keep an overview and the parts can be combined with each other.

Resources and money

are

saved

.

This is more sustainable

for your own life and for the planet

.

You consciously deal with your own

consumption

and only buy parts that are useful, high quality and fairly produced.

Your own

sense of style

can also be improved by consciously examining yourself.
The disadvantage or "danger" of the capsule wardrobe is that it loses individuality . But that doesn't have to be the case at all. You can have a small wardrobe and still maintain your own style. Because even if there are black tops or white cotton shirts in many capsule wardrobes, that doesn't mean that there can't be any variation within these categories: after all, there are different materials, processing techniques, cuts, sleeve lengths, necklines, and so on , and.
Convert your own closet into a capsule wardrobe - here's how!
Clean out, organize, done? That's definitely possible, but with a little more structure the whole thing can be approached more sustainably and less nerve-wracking...
1. Get an overview: Planning
Before you start cleaning out, it's important to think a few things about it . How many pieces do you ultimately want to have in your closet? Or are you not so concerned about the number of items of clothing, but rather about the ability to combine them? Maybe it's a good idea for you to leave out underwear or sports clothes for now. What does your everyday life look like? Is there a specific dress code at your work? How would you like to walk around in your free time? What role do accessories play for you? …
These are all questions you should ask yourself before clearing out. You can take your time for it. A wardrobe concept doesn't have to be changed overnight. The whole thing is a process that cannot and does not have to be perfect from the start.
In the next step you can take a closer look at your current clothing range. Take your time and go through your wardrobe from top to bottom or left to right and take stock : What kind of clothes do I actually wear? Which ones do I wear often, which ones rarely, and why? Which colors do I like? What clothes do I feel comfortable in?
Photo by Sarah Brown on Unsplash
2. It's time to get down to business: clearing out
For some this is the part that is the most fun, for others there are tons of things they would rather do than clean out their own closet. This step can take some time, especially if you have accumulated clothes over many years. So don't rush to finish the whole thing in one afternoon. It's a good idea to take each item out of the cupboard and create different stacks:
The Keep Pile

: All the clothes that you like to wear often or that have particularly sentimental value to you.

The sell-give-away-donate pile:

Here you stack all the clothes that you can and want to part with.

The draw pile

: Clothes that you like but rarely wear, that are nice but less comfortable, etc. go into this pile. You can put them in a box and leave it closed for three months. If you miss some of the pieces, they go back in your closet. If you haven't missed them or even forgotten them, they can be sorted out.
3. Analysis, inspiration, concepts
In this step, you take a closer look at the items of clothing you want to keep and think more deeply about your style . What makes up the clothes that ended up in the keep pile? Do you recognize a pattern? Do you have preferences for certain colors, patterns and cuts? How does this correspond to the answers to the questions you answered in step one?

Also look at how you can combine the pieces that should stay together. For example, you can also prepare outfits and photograph them . If you like, you can stick the pictures in your closet or keep them on your cell phone. So when it comes down to it, you have several ideas at once.
What are you still missing? What should your dream wardrobe look like in the end? Feel free to get a lot of inspiration from Pinterest or Instagram. It is important that you remain realistic. I know this from myself: There are tons of dresses and outfits on the internet that I think are really beautiful, but that simply wouldn't fit into my everyday life. Ultimately, we want to have a selection of fewer, comfortable pieces that can be combined with each other, so always keep that in mind ☺️ .
If you're having trouble matching the pieces, it can be helpful to use colors as a guide . To do this, first choose a basic color (e.g. dark blue - jeans), and then two neutral colors that match it (e.g. white and gray - top). What is now missing is an accent color such as pink, orange or red (e.g. shoes or a bag). Of course, you don't always have to follow this pattern, but it can provide you with good guidance.
4. Acknowledge the process: Complete it little by little
The capsule wardrobe is basically finished now. However, you may still be missing a few parts here and there. It's worth staying inspired and just trying things out . Over time you will notice which outfits you like to wear in which combinations and which pieces would be useful additions. It's best to make a wish list before you dive straight into online shopping. Before you buy something, ask yourself whether or not this would be a useful addition to your capsule wardrobe. You can then look for high-quality and sustainable pieces or scour flea markets and second-hand shops for something suitable.
Take your time creating your capsule wardrobe and enjoy getting to know yourself and your style better!
If you would like to find out more about the topics of sustainability, mindfulness or healthy eating, take a look here .
Photo by Caleb Lucas on Unsplash