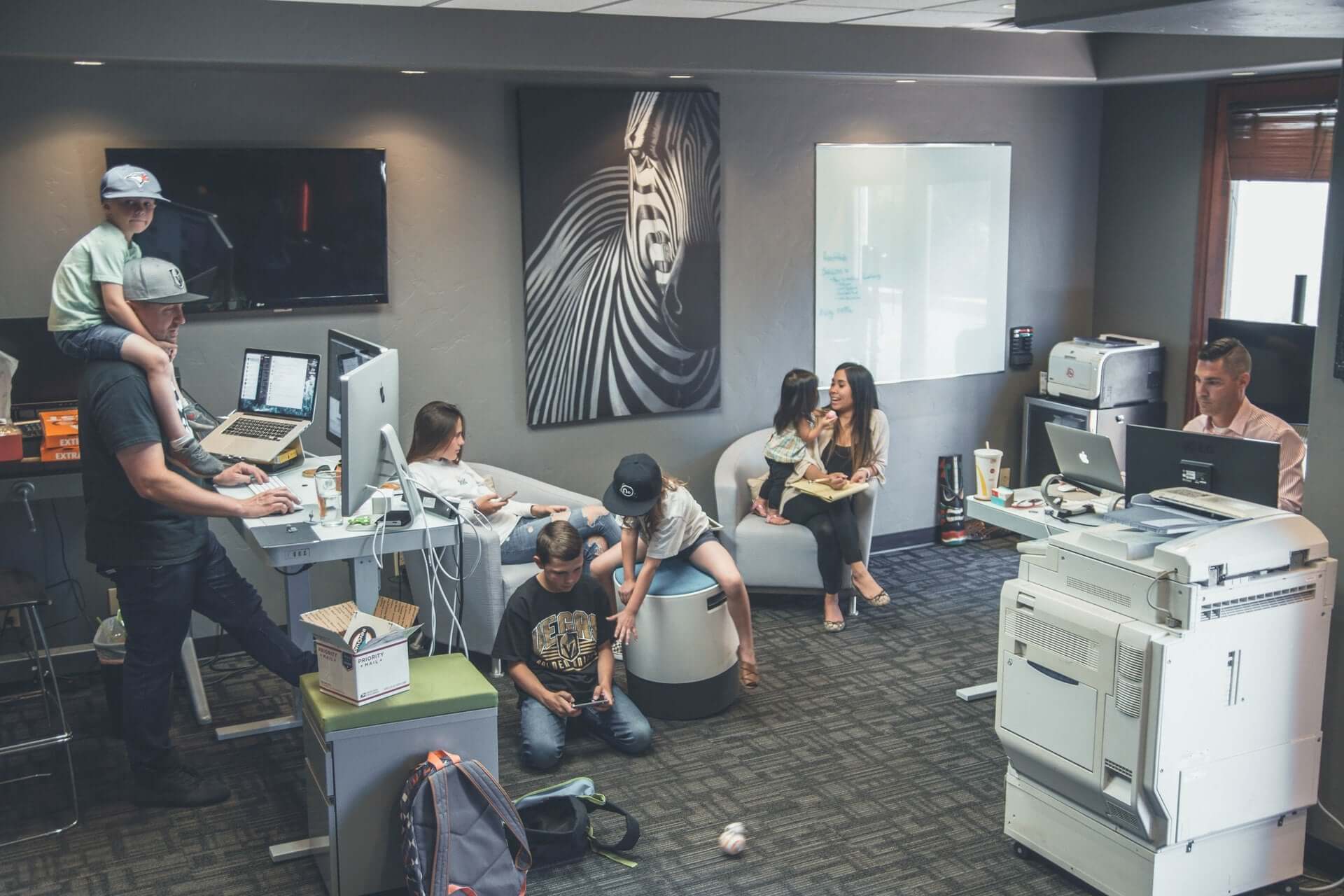 Child and career – I want both! A reflection on what it's really about.
The modern family man is faced with the challenge of choosing from a countless number of life plans the one in which he believes he can best see himself.
The opportunity for self-realization in the luxury of our modern western world usually puts us in the dilemma of being spoiled for choice. What should it be now? Which community do I want to join, which social network do I feel like I belong to, which attitude towards life do I want to develop, how do I want to express my creativity and how do I want to create and have an impact in this world in a way that best suits me?
Questions about family and career are usually central. According to our popular thinking, a career-oriented job requires long, intensive training and a full-time focus on reaching the top of the ladder.
The inner life goals, the question of "What for?", which often represents the secret motivation for such an undertaking, are often not taken into account so intensively when making the decision for such a life plan - which, to anticipate the process, is becoming more and more common This leads to people burning out on this path and losing the strength to implement it successfully halfway through. This development leaves them unsatisfied, which can then lead to tensions in family relationships and is often not recognized as the root of the problems.
The question of individual ideas about family and relationships also follows a similar pattern. Do we want to have children? How many? When? How important is the relationship with them to us, what motivation, other than our survival instinct, consciously drives us to bring children into the world?
We are aware that family life takes up a lot of time - exactly as much as the career ladder would require.
Spoiled for choice and the pressure to make a decision
What should we do now? We may find that we would like to achieve recognition, success and respect at the professional level, make a lot of money or demonstrate our skills.
On the other hand, we would like to have our social needs satisfied in family life. But time seems to throw a spanner in the works - having children can't be pushed back indefinitely because of the biological clock - and when it comes to your career, you're already on the sidelines from the age of forty - like a football player , who is already past his prime.
In addition, the requirements are increasing: we have to be experienced and reliable, like someone who has spent half their life loyally in just one company - as parents, the same is expected of us - at the same time we want to come across as flexible and innovative, smart and contemporary, always up to date and with modern lifestyles.
How on earth are we supposed to do all this? Where does the line between our own expectations and those of society and our social environment become blurred?
And what if we just can't decide? What do we want? The farmers had it much better back then, we let ourselves be carried away thinking and longing for the times when everything was so supposedly easy because it was predetermined. Both too narrow and very broad specifications are uncomfortable: a lot of space entails the responsibility to look inside and see what actually drives us in depth. That's exhausting.
In addition, we cannot let go of the question that arises at regular intervals about "was that really all?" All the effort with the children, all the investment in my career advancement, all the tears in romantic relationships, what is it all for?
A new path?
Two lives, or even more, that would be it. Or not? Which intellectual path could offer us a solution to the dilemma?
There seem to be so many different ways we can live, but they all have one thing in common: despite the obvious diversity, we seem to be running out of time. And: The options offered seem to be dictated from outside. We can place ourselves into one or another draft like a template and in the end many of us have the feeling that we have simply missed something at one point or another.
I would like to encourage you to take a new path: What would it be like to no longer make decisions from the outside in, but from the inside out?
The inner life world and our dreams know no time limit, no pressure and no limits to what is possible. Inside we can initially be anything. It also fits together to balance children and career without neglecting one or the other.
The more deeply our imagination is trained, the more we allow ourselves to look away from what seems possible, to disregard the opening times of the kindergarten, the choice of subjects at school, the time until menopause or the choice of partner, the successful application and the ideal pay and turn to our inner world, in which everything that wants to be can exist, the more we actually learn to think outside the box.
We reclaim our creativity. Who can tell you whether it is really impossible to be there for your children full time AND be successful in your career? What creative idea would like to be born to make this exact scenario a reality? Is there perhaps a job that allows both to be possible? What if you just make it?
The path opens with the "What for?"
Don't get me wrong, it's true: it means tons of hours and a radical willingness to take a new path. Well-trodden paths are much more pleasant to walk and the pressure to achieve perfection increases.
But this dress can also be too tight for you: it's not about everything being perfect. It's about being able to wholeheartedly stand behind what you do. And if you choose wholeheartedly to climb the corporate ladder AND give all your love to your children and create a safe, sheltered home, you will find a way. Maybe you don't immediately see an example of someone who has already achieved this and you encounter more people who stay afloat with "must yes". But you can be an inspiration, not least for your children who experience that their parents do not blame them for having to put their dreams aside.
Our next generation needs examples of a world of equality, vibrancy, justice and functioning community: people who are not satisfied with the status quo. People who raise children and at the same time work in refugee aid. People who put their family first while pioneering new innovations in the financial sector. People who love children and at the same time bring their soul to the stage.
It works. The point is that children are part of our society. That they see how we are fully committed to a better world - and our children can be part of it instead of acting as an excuse for unlived dreams.
For example, just a few months ago we could not have imagined that so many people would suddenly be able to work from home. Then came Corona. And suddenly a new window opened. Extraordinary circumstances give rise to extraordinary measures.
If you would like to find out more about family and pregnancy, mindfulness, nutrition or sustainability, check out more exciting blog articles on these topics here .
Author: SARAH ACKER