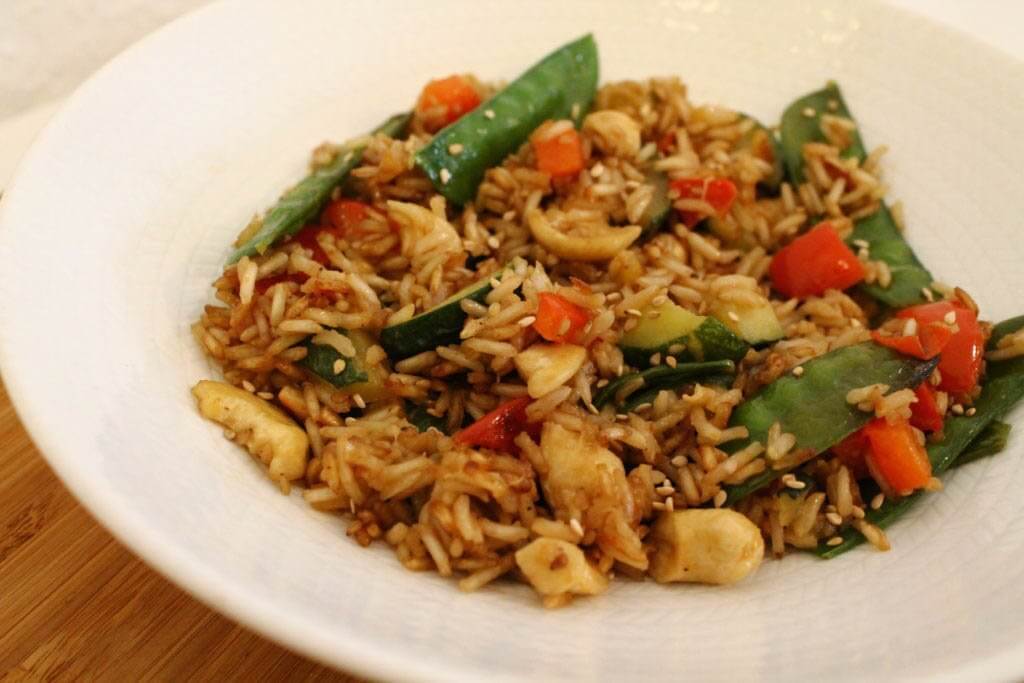 Fried rice with sugar snap peas and cashew nuts (vegan)
Today I would like to introduce you to one of my favourite (almost) one-pot dishes: Fried rice with vegetables and a soy-peanut sauce.
Rice works with almost everything: whether Mediterranean, Oriental or Asian - everyone can get a taste for it. Moreover, rice is also very healthy. It contains little fat, but valuable complex carbohydrates. In addition, important fibres ensure healthy digestion and minerals such as iron, magnesium and zinc promote the metabolism and relieve the cardiovascular system.
What I particularly like about this Asian-influenced recipe is that the dish tastes nice and spicy and not boring, despite the rather economical ingredients. Those who like it nutty will get their money's worth. The fact that the rice is fried is a nice change to the cooked standard variant.
This vegan rice pan does not only convince with the fresh vegetables paprika, zucchini and mangetout. Cashews bring that certain crunch and a nice, nutty aroma, which is rounded off by the peanut-soy sauce. That's why fried rice like this is not only ideal for lunch or dinner, but is also a great Mealprep dish!
Ingredients for 2 portions
½ red pepper
150 g Rice
½ Courgette
50 g Sweet peas
3 Garlic cloves
4 TABLESPOONS Soy sauce
1 TABLESPOON Peanut butter
60 g Cashew nuts (with or without salt)
1 TABLESPOON Sesame seeds
2 TABLESPOONS neutral cooking oil (or coconut oil)
Salt and pepper
Tools: cutting board and knife, pan, cooking pot
Preparation
First cook the rice in boiling salted water.
Then cut the bell pepper and zucchini into pieces and chop the garlic coarsely. Wash the mangetout.
Sauté the garlic in oil in a pan and then add the peppers and courgettes. Cook for 10 minutes.
Mix soy sauce with the peanut puree. Then add the sauce with the rice, the snow peas and the cashew nuts to the pan. Add the sesame seeds. Simmer for another 10 minutes.
Add pepper and salt to taste and serve immediately.
Preparation time: approx. 30 minutes
Nutritional values per serving: 434 kcal | 37.8 g carbohydrates | 16.9 g protein | 23.8 g fat
Have fun trying it out!
If you would like to discover more recipes or learn more about healthy eating, mindfulness or sustainability, take a look here .