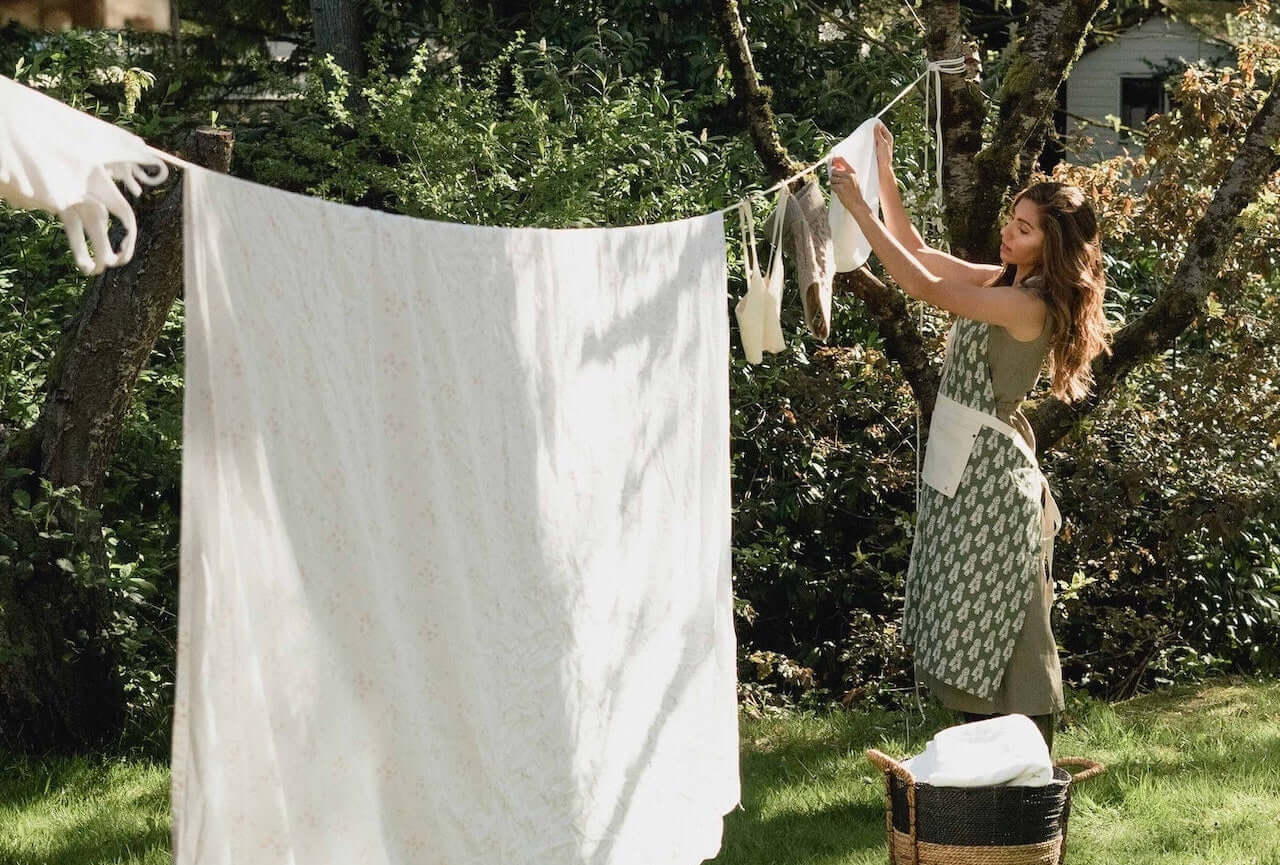 Caring for clothing properly and sustainably: tips & recommendations
Once a washing routine has been established, it is difficult to deviate from it. Nevertheless, it is not only good for your clothes, but also for the environment, to check from time to time how you can optimize the care of your laundry. Clothes that are properly cared for are significantly more durable and look "like new" for longer. At the same time, we can reduce our ecological footprint through our washing habits. However, caution is also advised when using homemade detergents.
You can find out what things you can keep in mind in all of this in this blog post.
Basic washing tips for long-lasting garments
The best way to celebrate sustainable fashion is to treat the items of clothing you have already purchased with care. This way you can benefit from it for a long time and prevent thoughtless purchasing behavior. It should be noted that the following tips cannot always be implemented in every household. Because sometimes there is a lack of materials, time or opportunities.
Wash less often
Is it really necessary to throw your sweater in the laundry after wearing it once? It is often enough if we air out items of clothing. Of course, things are different when it comes to underwear, baby clothes or socks. Just try to stop and think often before your clothes go into the laundry basket.
Fill the washing machine correctly
Only turn on your washing machine when it is actually full! This way you avoid unnecessary waste of resources such as water, energy and detergent.
Pay attention to care symbols
The companies that make your clothes usually know best how to care for them properly. Just as we need to get to know electronic devices before using them, we also need to get to know our clothes before we put them in the washing machine. You can find an overview of the meaning of the care symbols here .
Set the correct temperature
Recently it has been increasingly said that washing your laundry at 30 degrees is sufficient. Basically, a 30 or 40 degree wash cycle is sufficient for most items of clothing. Sometimes we tend to wash our laundry too hot when it's not necessary. At the same time, it is also important not to wash heavily soiled clothing too cold so that bacteria are really killed. A 60 degree wash cycle is recommended for towels, underwear or baby items.
The right detergent
First of all, it should be said that a lot doesn't help much in this case - stick to the dosage recommendations on the back of the detergent to save energy and water, as well as to avoid unwanted deposits caused by too much liquid detergent. If you want to switch to more environmentally friendly detergent, the general rule applies: the fewer ingredients, the better. The product should also be as free as possible from chlorine, parabens and phosphates.
Air dry if possible
Although tumble dryers are practical, they are quite a waste of energy. Allowing your laundry to air dry is much more economical and environmentally friendly than putting it in the dryer. In addition, a tumble dryer is not suitable for all materials; Running in is sometimes inevitable. A good alternative to the tumble dryer is to take heavy clothing to the dry cleaner every now and then instead.
Steaming instead of ironing
Steaming clothes is gentler than ironing and also protects the fibers. This makes the garments more durable. However, since this tip is primarily aimed at people with steam irons, it is not always so easy to implement.
Care instructions for garments made from organic cotton and viscose
At paigh we work almost exclusively with organic cotton and viscose , for example in our most popular harem pants "Oriental Sea" . In addition to the beneficial environmental aspects of these materials, it is also important to us to use easy-care materials. Basically, both materials are fairly easy to handle. Nevertheless, there are a few things you can keep in mind that will contribute to the longevity and color brilliance of your clothing. We have put together the most important tips for you here , concisely and clearly.
Caring for clothes properly sometimes takes a bit of time and thought. If you don't want to take any risks, the easiest way is to follow the care instructions included with your garments.
If you would like to find out more about topics such as sustainability, family and pregnancy, healthy eating or mindfulness, check out exciting blog articles here .